Together we plan the participatory, professional and sustainable use of collaborative visual thinking and visual management methods.
Visual storytelling, visual meeting facilitation and visual management create spaces for dialogue-to-understand and collaborative visual thinking when building the communication layer in your organization.
Visual Consulting builds the roof over it.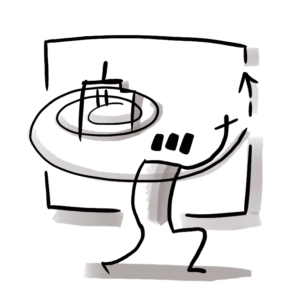 With the visual consultants from bizzuals you can redesign your dialogue projects and change processes. What is the intention of the project and what does the "big picture" look like? What does the graphic recorder need to save all knowledge nuggets from the conversations? Which questions on poster templates support the small group dialogue? How can we disseminate the results – analog, digital and media?
Together we design a procedure that weaves the individual threads into an overall picture. The power of images must be used consciously so that they become effective – for understanding the content, readiness for dialogue, process dynamics and identification of all those involved. Here, too, the communication guides are our experienced partners.